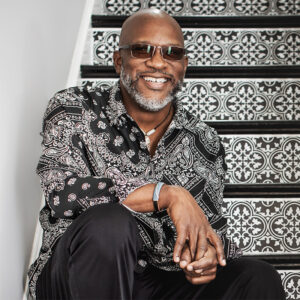 During his kaleidoscopic quarter-century as a professional jazz musician, pianist Orrin Evans has become the model of a fiercely independent artist  who pushes the envelope in all directions. Evans upholds that reputation on his 20th album, Magic of Now (Smoke Sessions), on which he helms a multi-generational A-list quartet through an eight-piece program that exemplifies state-of-the-art modern jazz. From first note to last, the  members, convening as a unit for the first time, display the cohesion and creative confidence of old friends, mirroring the leader's predisposition for finding beauty in the heat of the moment.
Although he's never had the support of a major label, Evans has ascended to top-of-the-pyramid stature on his instrument, as affirmed by a #1-ranking as "Rising Star Pianist" in the 2018  DownBeat Critics Poll. Grammy nominations for the Smoke Sessions albums The Intangible Between and Presence, by Evans' raucous, risk-friendly Captain Black Big Band, cement his bona fides as a bandleader and composer.
Evans bedrocks his speculative sensibility with virtuoso command of the piano and deep assimilation of the fundamentals. A deft tune deconstructor, he commands vocabulary across a broad timeline of swinging, blues-infused hardcore jazz and spiritual jazz/avant garde jazz dialects, as well as the Euro-canon, and conveys his stories with the intuitive spontaneity of an ear player. He projects an instantly recognizable sound, sometimes creating flowing rubato tone poems, sometimes embodying the notion that the piano comprises 88 tuned drums.
Evans' stylistically polyglot compositions – influenced by the expansive, individuality-first Black Music culture of his native Philadelphia and by a decade playing Charles Mingus' beyond-category music in the Mingus Big Band – similarly postulate an environment of "structured freedom" that instigates the personnel to push the envelope in all his multifarious leader and collaborative projects. These include the Eubanks Evans Experience (a recent venture with eminent guitarist Kevin Eubanks); the just-formed Brazilian unit Terreno Comum; Evans' working trio with bassist Luques Curtis and drummer Mark Whitfield; Jr.; and Tar Baby (a collective trio of 20 years standing with bassist Eric Revis and drummer Nasheet Waits).
One of Tar Baby's two 2022 releases will be released on Evans' imprint, Imani Records, which he founded in 2001 and relaunched in 2018.
An influential educator, Evans is devoted to passing the torch to new generations. His students include the outstanding young alto saxophonist and Blue Note artist Immanuel Wilkins, and the prodigious, Grammy-nominated teenage pianist Brandon Goldberg.