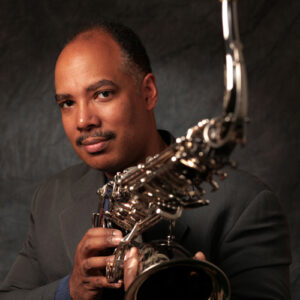 Don Braden is a musician of the highest caliber. Having spent years as the saxophonist with greats like Betty Carter, Wynton Marsalis, Freddie Hubbard and Roy Haynes, he has developed an extensive knowledge of every aspect of jazz performance. He is an imaginative, technically excellent, soulful saxophonist, and his harmonic and rhythmic sophistication give him a unique approach to improvising as well as composing and arranging. Most important of all: he has a beautiful sound, and he swings!
All this combines with his joyous yet disciplined personality to make him one of the most important young musicians working today. Born in Cincinnati , Ohio on November 20, 1963 , and raised in Louisville , Kentucky , Braden's first exposure to music came from his parents' record collection, and from radio. Although there were no musicians in his family, he showed a strong interest in music early on. At age 13, he started playing tenor sax in middle school band class, and two years later, joined his first professional band — influenced by and performing the music of "contemporary jazz" groups, like The Crusaders. After being introduced to acoustic jazz in high school by educator Jamey Aebersold, Braden went on to be chosen first chair for the McDonald's All-American High School Jazz Band and the McDonald's All-American High School Marching Band, and to receive a Yamaha Instrument Award. After his acceptance to Harvard University in 1981, Braden divided his time between studying engineering and performing at jazz clubs around the Boston/Cambridge area. In 1984, Braden moved to New York City where his first gigs were with the Harper Brothers Quintet and with organist Dr. Lonnie Smith, and then with Betty Carter. After touring with the Wynton Marsalis Quintet for over seven months, he recorded with Betty Carter on her Grammy Award-winning album, "Look What I Got" (Verve-Polygram). Following gigs in Europe , Japan and the Americas with Tony Williams, Roy Haynes, and many others, Braden was a member of the Freddie Hubbard Quintet from 1989 to 1991. Since 1991 he has worked with Tom Harrell, the Mingus Big Band, Kenny Barron, J. J. Johnson, the Dizzy Gillespie All-Stars, the Carnegie Hall Jazz Band, and others, as well as with his own groups. Braden's thirteenth recording as a leader, "Workin" (HighNote), features his organ trio with Kyle Koehler and Cecil Brooks III on drums and was released in 2006.
Don spent four years as co-music supervisor/composer for Bill Cosby's CBS sitcom, 'Cosby', which is now in syndication. He also co-wrote the theme song for Cosby's current CBS cartoon series 'Little Bill' and is presently writing for some segments of 'Fatherhood'. Braden is also the recipient of a Doris Duke Foundation (in conjunction with Chamber Music America ) Jazz composition grant, which funded the creation of a new work for his Octet. Don is currently Music Director of the Litchfield Jazz Festival Summer Music School , and the Music Director of the New Jersey Performing Arts Center's Jazz for Teens program. For the past three years, he has served as part of the "New York Faculty" at the North Netherlands Conservatory, in Groningen , Netherlands .
Don endorses Julius Keilwerth saxophones, in conjunction with the major music retailer Boosey & Hawkes. He also endorses AMT Microphones, and Jamey Aebersold play-a-long products.