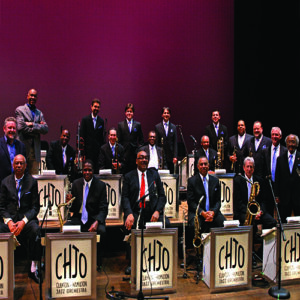 In 1986, John Clayton, Jeff Clayton and Jeff Hamilton came together to form the Clayton-Hamilton Jazz Orchestra. "When Jeff Hamilton and I were with Monty Alexander, one of the things that we did in our spare time was listening to some of the great big band records. We were absolutely in love with the Thad Jones/Mel Lewis band. We thought it'd be cool if someday we were involved with a big band. After leaving Monty Alexander, Jeff went with Woody Herman, I went with Basie, I moved to Holland, he moved to L.A. and played with the L.A. Four, and then I moved back to the States. When we got back together, we still thought that having a big band would be a great idea. My brother, who had lived in Los Angeles the whole time, knew all of the best players in the city and how compatible they were personality-wise, so he basically put the band together."
Although it was a bit illogical to form a new big band in the late 1980s, the Clayton-Hamilton Jazz Orchestra was a success from the start. One of its main strengths is that it has three co-leaders. "In the beginning my brother was responsible for getting the musicians, I was responsible for writing music that would get them to keep on coming back since they hated to rehearse, and Jeff Hamilton was responsible for finances which meant that Jeff Hamilton didn't have anything to do for a long long time! Since then things have changed.
To be a member of the Clayton-Hamilton Jazz Orchestra, musicians not only have to be technically skilled and excellent jazz players but they need other qualities. "Musicians have to really want to be a part of our band and what we do. They have to show us through their devotion and dedication that they are not blowing smoke in our face. We don't want people to just want to have a gig. We want musicians who love what we do and want to be in this family. With us it is truly about the music and the camaraderie. It is family."
Thus far the Clayton-Hamilton Jazz Orchestra has recorded six CDs: "Groove Shop" (Capri), "Heart And Soul" (Capri), "Absolutely" (Lake Street), "Explosive with Milt Jackson" (Qwest), "Shout Me Out" (Fable) and the most recent "Live At MCG" (MCG Jazz). The band had its own sound from the start and has continued to evolve. "I think what we are doing now is more sophisticated than what we were doing at the beginning. The element of swing is always going to be there and we do not want to deny it but we are also looking for other colors and other feelings. 'Like A Lover' on our most recent CD has sounds that were not a part of our early concept."
The Clayton-Hamilton Jazz Orchestra was the house band at the Hollywood Bowl during 1999-2001, giving John Clayton, as Artistic Director of Jazz for the Los Angeles Philharmonic, the opportunity to write for such guest artists as Stanley Turrentine, Milt Jackson, Jimmy Smith, Nancy Wilson and Shirley Horn. The orchestra has also recorded with John Pizzarelli, Gladys Knight and two recent albums with Diana Krall: a Christmas jazz project and a standards-oriented set (soon to be released). The Clayton-Hamilton Jazz Orchestra, which was named by the readers of Downbeat Magazine in 2004 as the top big band in jazz, is today considered one of jazz's great orchestras.